Yves Saint Laurent tribute pumps became a staple red carpet accessory. Just who hasn't been photographed with a pair on? Well let's not get into that. Let's focus on who wore it so far in 2007.
Beyonce
rocked them to a "B'day" photoshoot.
Christina
wore them to an "Back to Basics" after party in New York City.
Victoria
was photograped in a pair at an award ceremony and
J.Lo
was spotted in them at "TRL."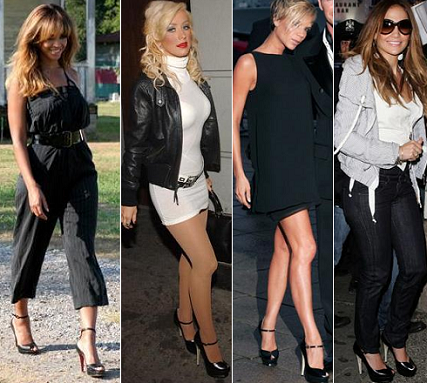 Eve
paired her white
Rachel R
oy frock with black YSL tribute pumps at an VH1/Self event in the Big Apple.
Gwen Stefani
rock her own creation a
L.A.M.B
asymmetrical black and white dress with the shoe craze of the year.
Jessica Simpson
dressed up with jeans while out and about in Hollywood.
Blu Cantrall
channelled her inner French chic style with a gold metallic beanie at Sidekick 3 bash.
Mary J Blige
paired her pink Valentino braided shoulder bag with a nude YSL platforms at a recent "Entourage" premiere.
Ciara
opted for the black and white plaid verison at the 2007 Kids Choice Awards.
Golden Brooks
went for '70s look at Too Faced Cosmetics and Sephora's "Love Lisa; Armed and Glamorous" Event.
Jessica Alba
rock the Mary-Jane styled pair to the 2007 MTV Movie Awards. American Idol star
Paula Abdul
in brown Prada jersey dress had on a pair of chic YSL pumps. R&B songstress from the U.K
Jamelia
dazzled in red YSL platforms at the Sony Radio Academy Awards.
Victoria Beckham
also wore this red pump for dinner with her husband.
[images via FC &
urban-hoopla
]
Style Verdict:
These ladies have inspired a new trend - 2007 YSL tribute pump obsession!
[obsessed-hoopla]