Serena Williams
simply can't get enough of
Catherine Malandrino
dresses. Dating back to April 2007 to a recent "The Kingdom" premiere, Serena has been photographed in a
Malandrino frock.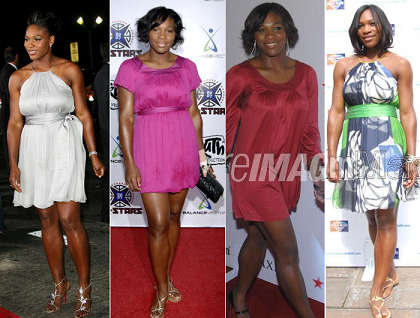 [
image source
]
At "The Kingdom" premiere, Serena wore a silver Malandrion mini. During the 2007 US Open weekend, Serena rock two pink Malandrino outfits. For Top of the Rock's Rooftop Garden, Serena flaunted her tennis physique in a multi-colored belted halter Malandrino dress.
Style Verdict
: Malandrino should definitely make Serena the company's spokesmodel. Why so? Serena wore a brown belted silk Malandrino dress for
her recent HP commerical.
[obsessed-hoopla]